Accelerate your growth with more revenue and less costs. With digitalization, transport companies can increase their profits by up to 7.500 euro per truck and year. Flexible web-based software solutions such as the CargoApps platform payoff from the very first vehicle.
Read in this article how you can leverage the following 4 savings potentials:
Introduction
Transport companies are often not aware of how much savings potential an optimized truck dispatching can offer. Time, for example, often plays a subordinate role for dispatchers, although the efficiency of a dispatcher is the most important factor in achieving the necessary daily turnover. In addition, there is considerable potential in the offer process, in planning or in a correctly chosen route. In terms of cost it is of utmost importance which way a truck drives, because each route has its own cost structure. Influencing factors are e.g. the toll, the truck distance and the journey time. Should the truck take the faster route over the pass with higher toll costs or should he take the coastal route with more distance? Questions that neither dispatcher nor driver can answer right off the bat. How should they? After all, they are no machines.
This question can only be answered with suitable software. Software that enables professional truck route planning, taking into account the corresponding truck restrictions. In addition, it must allow optimization between fixed, variable and toll costs which is flexible enough to map the respective transport requirements in route planning (express, avoid tolls, etc.). Finally, the uncomplicated operational execution is a decisive factor to survive in the turbulent everyday work.
Potential 1: Increase revenue with the right truck distance calculation
Shippers or freight forwarders often try to bill their service providers with Google Maps with the shortest route. However, since this route is calculated with a car route planner that does not correspond to the route actually driven with a truck. There are considerable differences between the kilometers actually driven and subsequently paid for. The problem with this is that the transport company usually bases its mileage price on the actual mileage. As a result, wrong decisions are made when submitting the offer, which costs every transport company profit and puts it at risk of insolvency in the medium term. With the truck distance calculation of IMPARGO transportation companies can avoid that risk.
"I then sent them the link to the truck-compatible route and the screenshot of the route. The client no longer had any further argument. The CargoApps saved me the company in such a short time. " - Edis Barakovic Eddy (LE Transport d.o.o.). Experience the full report
The IMPARGO CargoApps help to calculate real truck kilometers in order to achieve the turnover per trip that the transport company is entitled to. Accordingly, before finalizing a contract, service providers should agree with their client about a truck-compatible distance calculation - e.g. the IMPARGO truck route planner. Afterwards you will immediately generate more revenue. Revenue that you are entitled to as a transport company.
A calculation example - with an average of 400 km per day, a price of 1.25 euros per kilometer, 20 working days per month and an average deviation between IMPARGO and Google Maps of up to 2%*, you get an additional turnover of up to 2.400 euros per year and truck. The average deviation of truck and car kilometers from route planners is individual for each route or company and can fluctuate. The deviation is often absolute in long-haul transports and higher in percentage terms in local transport.
Example of extreme deviations in kilometer calculation: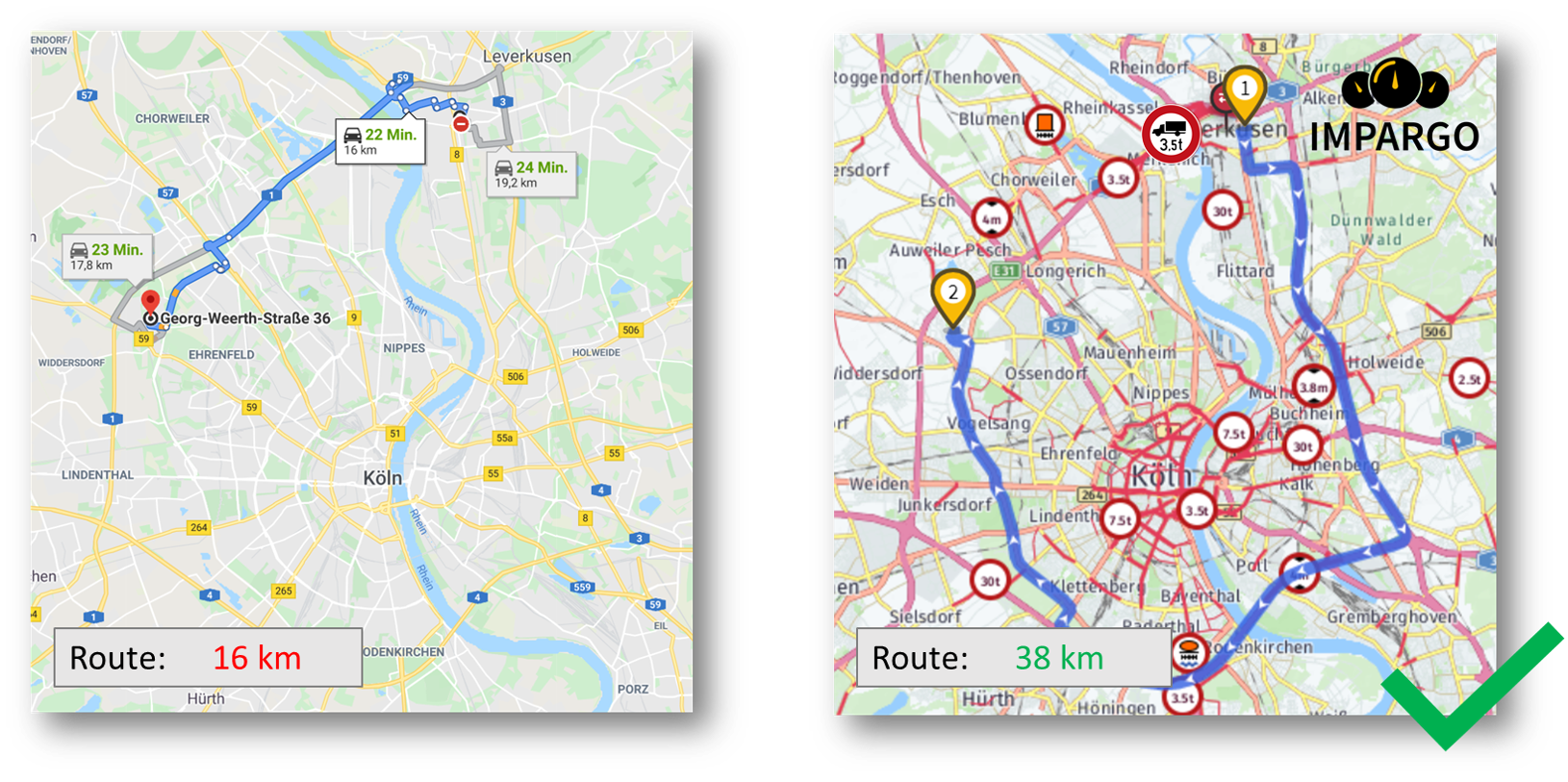 Link to route (Google Maps)Link to route (CargoApps)
Potential 2: Reduce operational time
Truck dispatching is time consuming. From the preparation of the offer, to route planning, to tracking and customer communication, the dispatcher has to perform a variety of tasks. The dispatcher often works in many different systems and spends a lot of time collecting, checking and processing information from different systems and sources. The dispatcher collects e.g. data such as distances, toll costs, ferry information from various systems such as Google Maps, websites of toll providers or from extensive Excel tables and processes them according to his highly individual process. With certain calculations, such as the toll, the risk of miscalculation and therefore damaging to business is very high.
"I can make offers almost immediately with IMPARGO. This easily saves more than an hour per truck and per week. IMPARGO is invaluable to me!" - Robert Stewart (Transport Scotland Ltd.) Read the full success story
IMPARGO saves dispatchers up to 20% of their time by providing them all relevant information for the planning, optimization and tracking of transports in an easy-to-use tool. With savings of one hour per truck and week, this means cost savings of 1.440 euro per truck and year with average wage costs of 30 euro per hour. With the certainty that the information is reliable and up-to-date, the dispatcher can find all the information he needs in one system - the IMPARGO CargoApps. The dispatcher not only saves time, but also speeds up the processes considerably. In a dynamic transport business a fast response time, e.g. a quick offer, is worth a lot and a competitive advantage. Your customer will thank you.
Potential 3: Reduce transportation costs with optimized routing
The following comparison of two optimization strategies in the truck-compatible IMPARGO CargoApps is to illustrate the savings potential via an optimized route with an example. The following table shows the results of a real route calculation between Sévaz (CH) and Rucphen (NL) with the "fastest" and the "cost-optimal" route guidance from IMPARGO.

Strategy
IMPARGO
Cost-optimal
IMPARGO
Fastest
Time *
13,5 h
12,3 h
Distance
837 km
816 km
Time cost
337 €
308 €
Distance cost
418 €
408 €
Toll cost
159 €
230 €
Overall cost
914 €
947 €
Depending on the transport requirements (e.g. time restrictions), the cost optimization function of IMPARGO can save costs. The optimization function optimizes the costs over time, distance and toll. In the example above, the user saves costs in the amount of 33 euro for this tour. Cost savings have a 100% positive effect on profit. With a typical example margin of 2.5%, this would almost double the profit on this tour.
In order to increase the savings potential through a cost-optimized route, the planned route must also be driven in reality. Drivers or subcontractors plan their routes using the navigation system (pure route optimization) or from their experience and therefore generally do not drive the route that is optimal for the cost. Neither the planning in the head nor most navigation systems are able to optimize toll, distance and time costs. The operation of such systems is also complex and, ideally, is not in the hands of the drivers, but the dispatchers.
The IMPARGO solution is simple and effective. The dispatcher determines the suitable route depending on the requirements of the transport and sends it to the IMPARGO DriverApp (for Android smartphones) connected to the system. In theory, savings of up to 3* cents per kilometer can be generated on average. With an average of 400 kilometers per day and 240 days of operation a year, this is a saving of up to 2.880 euros per truck per year.
Potential 4: Increase margin with more competitive and profitable offers
Determining the cost of a tour is a basic requirement to create profitable and competitive offers. If you do not know your costs, you run the risk of losing profitable orders (offered too expensive) and accepting unprofitable orders (offered too cheap). The objective should be to increase the number of profitable offers. This can only be achieved through cost transparency. As a result, you lose more unprofitable offers, but at the same time you can increase the number of profitable transports.
The dispatcher traditionally calculates the kilometers (e.g. in Google Maps) and multiplies them by a kilometer rate. In our example listed below, this leads to an offer price of 896 euros for a kilometer rate of 1.15 euros per kilometer via Google Maps for a calculated route. In the example below, however, the costs are not visible working with tools like Google Maps and lead to driving with a price under cost. With the cost transparency generated by IMPARGO, a price can be generated based on the PLAN costs. The kilometer rate of the route calculated via IMPARGO can now be selected individually based on the planned costs and is below the "example standard kilometer rate" of 1.15 euro. The offer price calculated via IMPARGO is higher, but compared to the price calculated via Google Maps, profitable for the company.
| | IMPARGO | Google Maps |
| --- | --- | --- |
| Distance | 837 km | 779 km |
| Planned cost | 914 € | ? |
| Price per km | 1,13 € / km | 1,15 € / km |
| Offer price | 946 € | 896 € |
| Margin | 3,5% | -2% |
With the CargoApps, the dispatcher knows his costs at all times and knows exactly when he offers transports below his costs. In this way, hidden costs are uncovered and more profitable offers are won. In contrast, unprofitable offers are reduced. In addition, the cost transparency generated by IMPARGO almost completely precludes offers from being created under cost without the dispatcher's knowledge.
To the same extent, this can also be reversed by generating a higher offer value using Google Maps. However you probably won't win this offer because the price is too high and not competitive.
"The CargoApps system is absolutely fantastic. Unlike widespread tools like Google Maps, it gives me reliable information about my transportation costs and helps me find the optimal route with minimal costs for a particular transportation, " - Robert Stewart (Transport Scotland Ltd.). Read the full story
If you calculate with average values, such as an average kilometer rate, sub-optimal offers are created. Profitable transports are lost and unprofitable transports are carried out. The CargoApps Platform from IMPARGO solves this problem and enables dispatchers to create offers efficiently, achieve higher margins, standardize the offer process and quickly determine relevant information. Evaluations of routes by selected IMPARGO users have shown that the margin can be increased by up to 1* ct per kilometer simply by an optimized offer process. With an average of 400 km and 240 days of use per truck, you increase your profit by up to euro 960 per year and truck.
Conclusion
Transport companies can increase their profits with digitization. These potentials vary depending on the company structure. With the digitization solution from IMPARGO there are four approaches how transport service providers can increase their sales or reduce costs. For example, IMPARGO helps with proper truck distance calculation to increase revenues, save operational time, reduce transport costs with optimized routing or increase the margin with more competitive and profitable offers. Depending on the usage, company structure and transport requirements, transport companies can increase their profit of up to 7.500* euro per vehicle and per year. The IMARGO solution usually pays off from the very first vehicle.