Managing Director of LE Transport d.o.o. Edis Barakovic Eddy uses the IMPARGO truck distance calculation as a foundation to bill his customers, because it increases his revenue directly.
Eddy explains that Google Maps has become often the basis for distance calculation of transports for many freight forwarders and shippers. "Many customers try to bill my performance based on Google Maps kilometers, although Google Maps is only suitable for cars," he emphasizes. Truck route distances always differ in mileage to car route distances, due to truck restrictions as well as vehicle speeds. This means that there are significant differences between driven and compensated kilometers. "The prices per kilometer calculated by me are based on an internal cost calculation and thus our actually driven kilometers. Accordingly, car route planners are not suitable for the fair compensation of transport companies and lead to an unjust compensation of my performance."
"The CargoApps saved my company"
Eddy reports that "in the first week of working with his new client, he had already noticed enormous differences in mileage between driven and compensated kilometers." After he had approached the client, it became clear that Google Maps was used for billing. Eddy negotiated with his client the IMPARGO truck route calculator as basis for distance calculation and therefore as basis for billing. "I then sent them the link to the truck-compatible route and the screenshot of the route. The client had no further argument. The CargoApps saved me the company in such a short time. " For example, Eddy was able to enforce 39 kilometers more on the following route: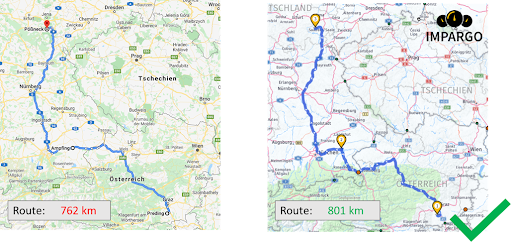 Link long-haul route (Google Maps) Link long-haul route (CargoApps)
TIP 1: Did you know that you are able not only to share the route with your client via PDF but also via link? Simply enter the route, copy the URL and then send the URL to the client. The latter can then view the route using a (free) CargoApps account.
"The IMPARGO CargoApps help me calculate real truck kilometers and get the price which I deserve," says Eddy. If you agree with your client on the IMPARGO truck distances, you can immediately generate more revenue. Revenue that you are entitled to as a transport operator.
"4.000 Euro additional revenue per truck and per year"
"If you calculate an average of just 1% more kilometers with IMPARGO, have 240 operational days per truck and drive an average of around 500 km per vehicle per day, there is a theoretical increase in sales of up to 1.500 Euro per vehicle per year," Eddy adds. According to Eddy, this is ridiculous compared to the costs he has with IMPARGO. IMPARGO therefore pays off from the very first vehicle.
TIP 2: Proactively address your customers! No matter whether your customer is a freight forwarder or a shipper. Before agreeing to any contracts, fix the IMPARGO truck-compatible truck route calculator as the basis for billing and immediately increase your revenue.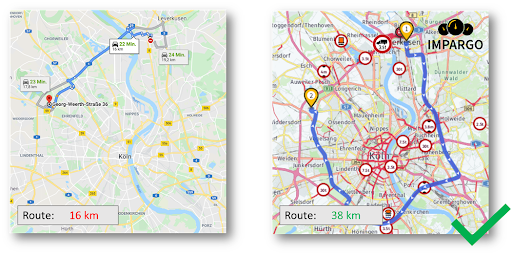 Link short-haul route (Google Maps) Link short-haul route (CargoApps)