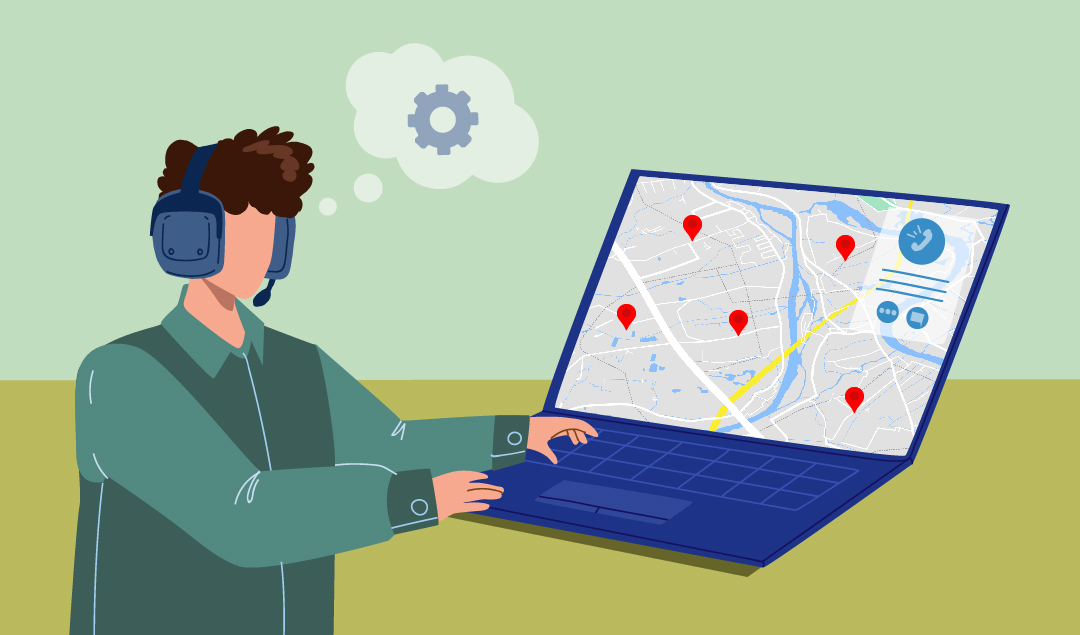 Table of Contents
A dispatcher is a member of an organizational business unit who is responsible for the allocation of resources and goods. Dispatchers gather and process data to timely coordinate the actions of other employees (e.g. drivers) and assets (e.g. trucks). Several organizations use them to communicate information, guide people and coordinate their operations, including police and fire departments, emergency medical services, motorcycle couriers, taxicab providers, trucking companies, railroads, public utility agencies as well as production companies. In this article, we provide a much clearer description of the dispatchers' duties in freight logistics.
What is a dispatcher in freight logistics
Freight dispatchers usually work for a single company and manage a fleet of up to 25 trucks. Their major task is to ensure their vehicles are fully utilized. That means operationally that they make sure that drivers have deliveries to make and arrive on schedule. They also often act as the representative of a transportation company (carrier or freight forwarder) during freight negotiations with the shipper in order to sell cargo space to the highest-paying customer on non utilized lanes. Therefore, being a freight dispatcher represents one of the most valuable professions in transport forwarding logistics, as they have a great influence on the transport company's profitability.
What are the responsibilities of a freight dispatcher?
The responsibilities of a dispatcher vary with the size of a company. In general you can say the smaller the company the broader are the tasks of a freight dispatcher. Therefore, a freight dispatcher can assume a wide variety of tasks, responding as a salesperson (who sells cargo space), in logistics planning, in transport order execution and as procurement specialist (who buys cargo space). Due to the high impact position, they even often participate in the company's profits. Depending on the functions of this role and their level of importance, they could be classified as sales, planning, trading, execution-related and bookkeeping tasks.
A. Sales tasks
Understand market prices, cargo space availability.

Calculate transport cost and create offers (see

vehicle cost calculator

).

Create logistics solutions for customers (e.g. warehousing, picking, etc.).

Dealing with customer service on a daily basis (e.g. transport status updates, etc.).
B. Planning tasks
Create tours and schedules for own and chartered trucks (e.g. IMPARGO's software helps you match customer loads with available cargo space).
Plan optimal route for driver (e.g. cost optimized route, avoid toll cost route, fastest route).
Coordinating cargo pickup and delivery via a network of carriers, ports, customs brokers, and warehouses.
C. Trading tasks (spot loads)
Find available cargo space on freight exchanges or in your closed partner network and negotiate prices.
D. Execution tasks
Coordinating with other departments to make sure orders are fulfilled accurately, such as accounting, sales, or shipping.

Tracking truckloads on time by communicating with truck drivers, dispatchers, and customer representatives regarding pickup, deliveries and the respective status updates.

Ensuring that every piece of cargo is properly loaded and unloaded.

Monitor and report driver performance issues or concerns for appropriate resolution.

Keeping customers informed of delays, concerns with shipments, and other potential shipping-related issues.
E. Bookkeeping task
Coordinating with other departments to make sure orders are fulfilled accurately, such as accounting, sales, or shipping.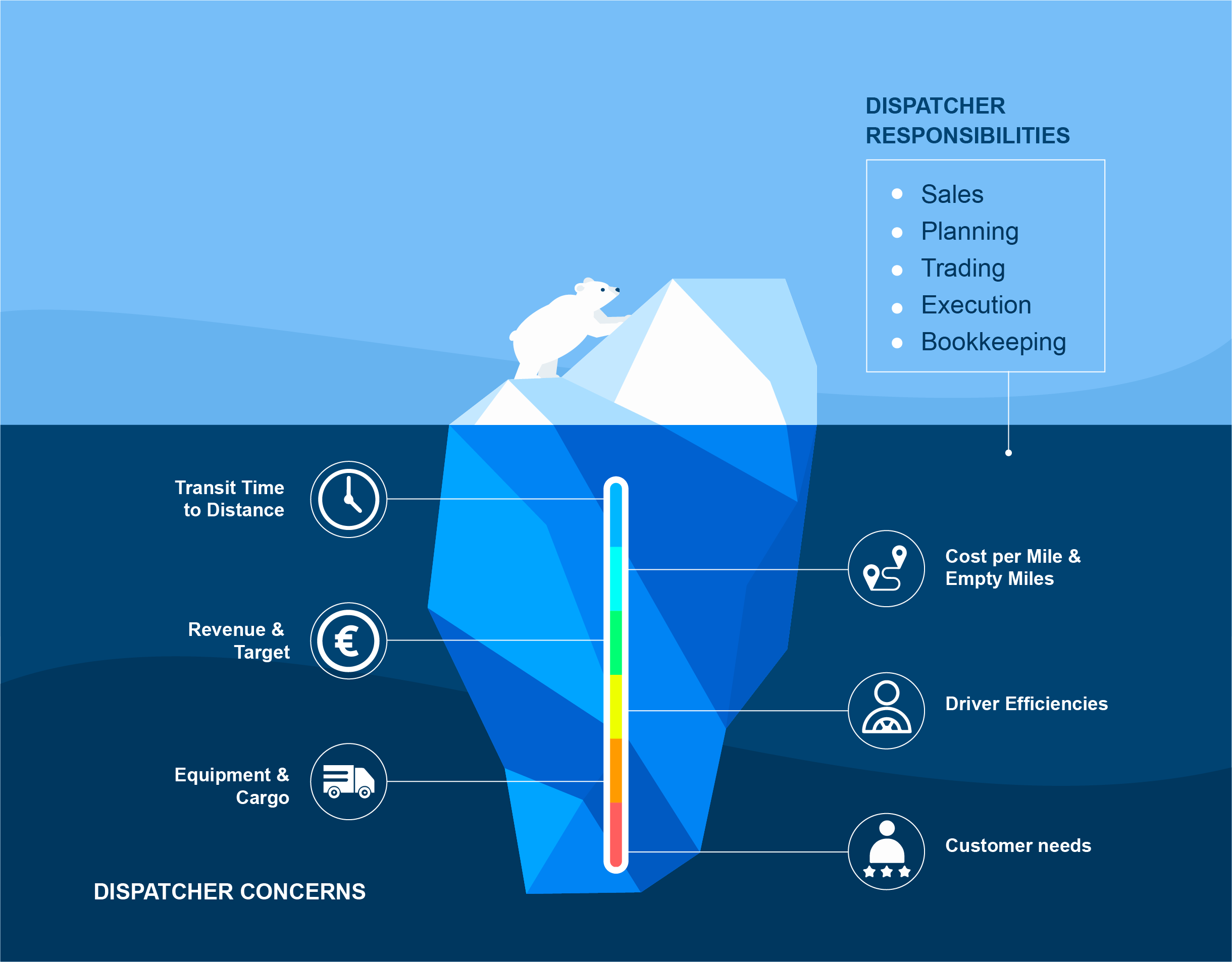 5 ways TMS can help freight dispatchers
There are several ways transport management systems (TMS) support freight dispatchers with their daily tasks. In this regard, the TMS provides the 360-degree visibility that users need to make effective decisions in their logistics operations.
Accelerate efficiency through automation
A transport management software helps dispatchers to create professional offers, manage loads, schedule their trucks as well as monitor the order execution. Moreover, they provide a suitable communication system so that long communication queues with drivers could be avoided. Indeed, TMS streamlines dispatchers' workflows by eliminating repetitive tasks and therefore, this boosts the efficiency of logistics's daily operations. Recommended systems instantly use integrations to other systems (e.g. CRM, bookkeeping or accounting systems) in order to avoid multiple data entry and automate workflows.
Increase customer service level and boost business growth
Transport management systems make it easier to bring added value to customers and hence increase the service level. Good systems for example integrate the customers into the workflows with automated status updates or estimated time of arrival predictions. An increased service level as a competitive advantage compared to your competitors is the basis of business growth.
Manage relationships with your truck drivers
Transportation management systems provide dispatchers with a driver app, which allows dispatchers to reduce communication effort to a minimum. It is important that the app for the drivers is easy to use, since it is not obvious that drivers will accept them. Enabled with an all-in-one communication, planning and execution system (like the CargoApps from IMPARGO), truck dispatchers support their drivers by making their life easier with reduced calls and increased safety (e.g. book secure parking slots).
Optimize profits with accurate analytics
Daily fleet data analysis is also a major task for freight dispatchers. They must take into account a myriad of factors in order to manage incoming customer requests and optimize delivery routes. This covers everything, from the weather forecast to the total number of stops made. Good analytics helps truck dispatchers for example to compare planned and actual cost and optimize the profit for certain customers or routes.
Increase transparency
Overly straightforward transport management systems help managers to easily track and evaluate the event history of each transport order thanks to the clear and thorough change record for transport orders in a professional TMS. In cases of disputes with the customers there is always evidence when and where the driver was. This is especially important for waiting times at the ramp.
Which dispatch software for freight logistics
An expanding carrier or freight forwarder may easily handle every facet of their business from a single interface with the help of a reliable dispatch software package. The best options will have a completely integrated set of functions for managing drivers, dispatching, route planning, cost calculation, accounting, freight billing, compliance, mobile driver communication and document management.
With the right software for freight dispatchers help transportation companies streamline their operations and manage seamless customer experiences. There are several other software systems which can help dispatchers do their daily work. Read on to learn how they can bring value to your company. Get to know what type of software will help you increase your efficiency and reduce costs.
| | | |
| --- | --- | --- |
| Software for dispatchers | Description | Related to IMPARGO |
| Shipper Platforms | Built for business with +20M € yearly freight spend and limited access to small carriers. | WHAT WE DO |
| Telematics System | Provide transport visibility and vehicle/driver data for carriers directly. | INTEGRATIONS AVAILABLE |
| Optimization Software | Complementary planning tool in addition to TMSs and tracking systems. | WHAT WE DO |
| Transport Management Systems | ERP systems for transportation service providers or transport module for shippers. | WHAT WE DO |
| Freight Exchanges | Focus on matchmaking between freight forwarder and carrier empowering middlemen. | INTEGRATIONS PLANNED |
| Visibility Platforms | Aggregate telematics systems and provide transport visibility (ETA) for shippers. | INTEGRATIONS PLANNED |
| Billing & Accounting | Systems to create and send invoices as well as offering accounting possibilities. | INTEGRATIONS AVAILABLE |
IMPARGO is a cloud-based transportation management software (TMS) that allows dispatchers to gain real time information into their transportation processes as they can see ETAs and status updates based on the delivery progress and potential delays. There are four ways transportation service providers can boost revenue or cut costs using IMPARGO's digitisation solution. For instance, IMPARGO assists with accurate truck distance computation to boost revenues, cut operational costs with optimal routing, or enhance the margin with more lucrative and competitive offerings.
Moreover, transport companies can enhance their profit by up to 7500* euros per vehicle and per year depending on consumption, organizational structure, and transport requirements. The IMPARGO's dispatch software usually starts to pay off with just one vehicle. Click here to see more in our article regarding this possibility to increase your productivity.
Increase revenue with the right truck distance calculation (up to 2.400 euro / year)*
Save time in operations (up to 1.400 euro / year)*
Reduce transportation costs with optimized routing (up to 2.800 euro / year)*
Increase margins with more competitive and profitable offers (up to 900 euro / year)*
*Caution: The information in this article is for illustration purposes and based on assumptions that may not necessarily correspond to those of your company. Guarantees are excluded.
Any questions? If so, please contact our expert.