Table of contents
What changes?
The technical extension of tolls to all federal roads on 1 July 2018 will be followed by a fundamental toll increase on 1 January 2019 with an increase in kilometre rates of up to 7 ctkm. Depending on the vehicle fleet, toll costs may rise by more than 55%. Overall, the toll increase leads to an increase in total vehicle costs of up to 7%.
→ Go to our free toll comparison calculator
Who is affected?
All companies with a fleet of more than 7.49 tons will be directly affected by the toll increase. As a rule, however, the transport service providers will pass on the costs to their customers. Anything else would be extremely risky from an economic point of view.
What does the new tariff structure look like?
The traditional classification of number of axles and Euronorm is extended by the attribute weight class, so that for each Euronorm the following classifications result
≥ 7.5 tons - 11.99 tons
≥ 12 tons - ≤18 tons
> 18 tons with up to 3 axles
> 18 tons with 4 and more axles
According to the current status, the following cost rates apply:
classes
7,5 - 12t ptw
12 - 18t ptw
> 18t ptw
max. 3 axles
> 18t ptw
min. 4 axles
Euro 6
9,3
12,8
17,3
18,7
Euro 5
10,4
13,9
18,4
19,8
Euro 4
11,4
14,9
19,4
20,8
Euro 3
14,6
18,1
22,6
24,0
Euro 2
15,6
19,1
23,6
25,0
Euro 0/1
16,7
20,2
24,7
26,1
→ To our free toll comparison calculator
According to BGL (Bundesverband Güterkraftverkehr Logistik und Entsorgung e.V.), "the impact on future transport costs for a modern 40 t combination is considerable. For transport over 300 km, of which 150 km on a motorway and 100 km on federal highways, a modern 40 t combination had to pay a toll of 20 euros so far; in future it would be 46 euros, more than twice as much as before. With an annual mileage of this combination of 120,000 km and a division between motorways and federal highways of 8020, the annual toll burden would rise from currently 12,960 to 22,440 euros."
What are key findings regarding cost increases?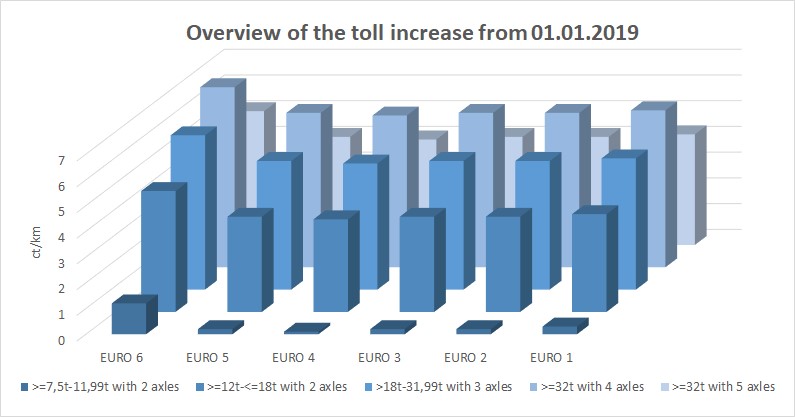 The following key findings can be derived from the above diagram of the toll increase
Trucks under 12 tonnes are hardly affected by the toll increase.
For trucks over 12 tons there are additional costs of between 3.7 - 7.0 ctkm.
Euro 6 trucks are most affected in absolute figures.
Trucks with 4 axles are punished the most (up to 7 ctkm extra costs).
What changes for the driver?
The weight classes (for voluntary input) have been appearing on the on-board units since June 2018. However, the declaration of the weight class is mandatory on the OBU from 01.01.2019. In the case of vehicles and vehicle combinations over 18 tonnes gross vehicle weight, the number of axles must also be specified. You can find the corresponding instructions from Toll Collect here or an explanation video here.
Attention: If the weight class is not set, this will result in penalties and subsequent collection of the toll amounts.
How do I get a direct toll comparison before and after 01.01.2019?
With our free toll calculator Mautex you get an immediate comparison of the current toll costs compared to the future costs.