We are really proud to announce the release of our new "Send" feature - the sharing functionality in the CargoApps Planner dashboard. This new feature helps dispatchers to send order information to the driver and your relevant contacts (partners, clients, drivers, etc.) within seconds.
The highlight of our new "Send" feature is the function "Send order to driver". With this functionality, you are able to send your planned orders directly to the smartphone of your driver (with our DriverApp installed), get live status updates and estimated time of arrival to your shipments via GPS.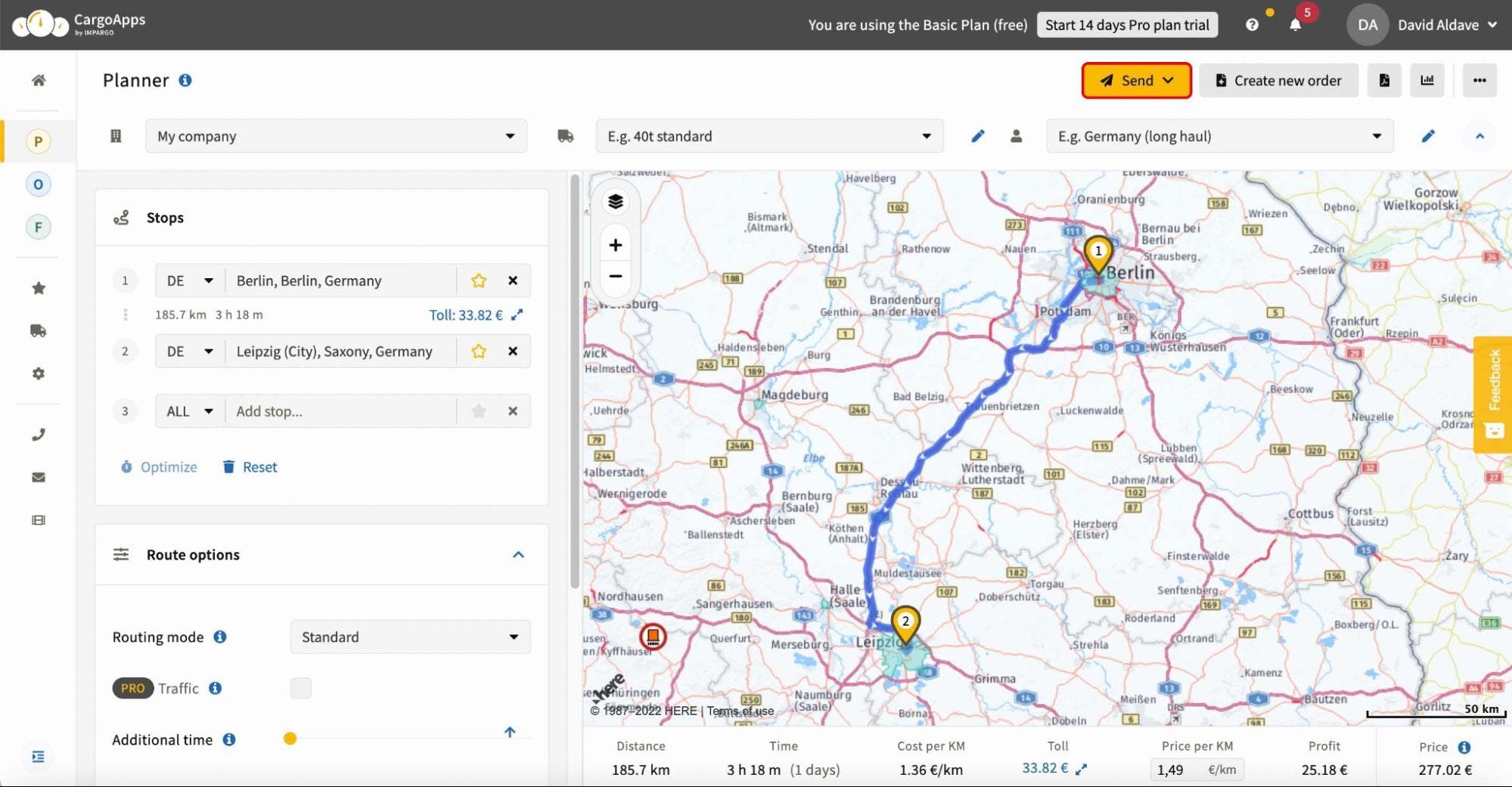 Check out our tutorial video on how to use our "Send" functionality on the CargoApps
Besides, the "Send" feature also has other workflows that may help you optimize your work daily.
The "Send order to carrier" feature allows you to minimize your effort when writing an email to your partners. You can send order information to all stakeholders you consider, even if they do not have a CargoApps account.
The "Send tracking link to customer" feature is a new key one. By sending the tracking link to your customers or partners, they will be able to see not only order details - such as stops, dates, and so on but also status updates as well as the estimated time of arrival (if DriverApp is used). In addition, the CargoApps account is not required by your partners!
The "Request offers from carriers" feature helps you to automate your offer process. Send all needed information to your partner in a few clicks and just wait for his/her offer.
The "Send offer (PDF) to customer" feature allows you to send offers in just 3 clicks. Simply ease up your sales process!
Check how these features work!
IMPARGO exists to digitize small and medium-sized transportation companies and help you to make your transport processes faster and easier. IMPROVE CARGO!
We are constantly trying to improve our CargoApps to make your performance easier and way more productive at the same time.
Why is IMPARGO's transportation management system (TMS) for carriers a game changer?
IMPARGO aims to be the leading logistics software for small and medium-sized (SMEs) transport companies with fully automated truck route-planning based on algorithms and counts with other useful functionalities for carriers such as fleet management and live tracking. With the integration of the new 'Send Function' our intelligent algorithm will guide you towards not only drivers but also to your customers and partners.
How could our transportation management software help you out in your daily logistics operations?
Imagine your driver needs to contact your dispatcher via phone constantly so that he figures out the exact location where he needs to deliver an order. He is very annoyed because he is now stuck in a terrible traffic jam.
In the meantime, the dispatcher: is running from task to task: she has a big pile of orders to review, do cost calculation and on top of that keep track of the driver's location. Indeed, she's very stressed due to the big workload.
With our CargoApps (and the integrated DriverApp), you constantly get up-to-date information on your transports. With our software, you can access the data about your order as well as the driver's location and make the best of more functionalities. Now the driver can fully concentrate on driving. The dispatcher does not need to call him all the time since she can trace his location with a connected smartphone and get updates on his destination through our GPS system.
The dispatcher is now way more relaxed and spends way less on the phone now because CargoApps allows her to receive orders from customers digitally.
The driver arrives on schedule. The customer is then happy since he was also able to track the order and see the estimated time of arrival. The order has been fulfilled!
This means, you get more precision, and thus, you get to improve your daily business performance! Save time, money and nerves when carrying out your logistics operations through our digital platform.
How to get started with our Transportation Management System?
Very Easy! Sign up for your free 14-days trial and make the most out of the CargoApps features. With our software, you can optimize your logistics operations such as saving up to 20% time in truck route planning, automate your transport order processing, track trucks and get ETA and above all - increase your profitability. Digitize your logistics operations overnight and start optimizing your routes now.