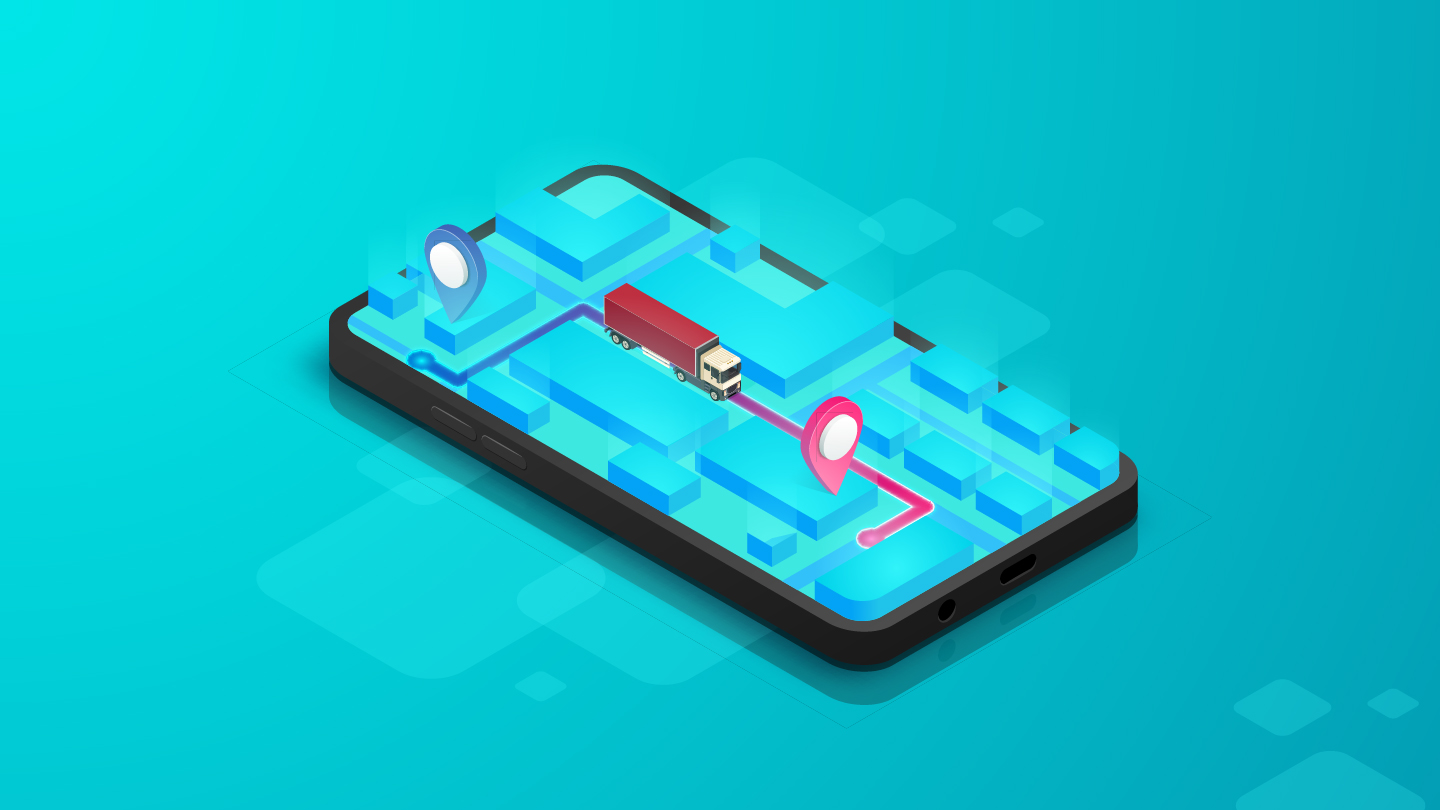 Table of contents:
1. What is telematics in freight logistics
2. How does a telematics system work?
3. Benefits of a telematics system in the transportation industry
4. Key advantages of IMPARGO's fleet telematics system
Telematics solutions help fleets run their businesses more profitably and have long been a big benefit to the trucking and transportation sectors. Telematic systems (when integrated with fleet management solutions) enable fleet operators and dispatchers to enhance workflows and procedures and get the most out of their assets by providing crucial data and insights.
The term 'telematics' is referred to as a system that, primarily utilizing GPS technology and ON-board diagnostics, enables users to track the movement of vehicles like cars, trucks, industrial, and other mobile equipment in real time on an electronically created map. In this article, we will present some relevant points that explain the importance of the use of telematics in the road freight industry.
What is telematics in freight logistics?
The integration of GPS technology, communication lines, and on-board computers is referred to as telematics. In its broadest definition, telematics is the fusion of two sciences: informatics, which deals with computer systems, and telecommunications, a branch of technology that deals with phone lines and cables. In the context of logistics, this term is often used to describe the telematics systems used in company vehicle fleets, and describes how telecommunications equipment sends and stores data to aid decision making, as these telematics tools collect and send information about the driver's driving style and behaviour. This is used most frequently for vehicle tracking. This is accomplished by fusing a GPS system with onboard diagnostics, often to map a vehicle's precise location and speed.
The telematics data collected can consist of various information, such as location, speed, idling time, abrupt acceleration or braking, fuel consumption, and vehicle issues. This data can offer comprehensive insights throughout a fleet when examined for specific occurrences and patterns. Fleet management software, a subset of telematics, is a popular choice from modern businesses because it allows them to organize the cars they control and get a full picture of the productivity, profitability, and health of their whole fleet. As a result, fleet operators or dispatchers will be able to better manage resources because they have a complete understanding of the entire logistics execution.
How does a telematics system work?
Telematics is a technology system that employs wireless networking, vehicle sensors, and data dashboards to enable the long-distance transmission of data from transportation devices (e.g. truck, trailer or construction machines). When this system is in use, such as a tracking device or other real-time monitoring tools, it is integrated into an asset. Then, the device collects crucial asset performance data. The gadget then sends the information to a computer system for compilation, interpretation, and review after it has been gathered.
Different techniques are used to collect data, including hardwired or self-fit devices and smartphone apps. Moreover, with the use of this data, auto insurance companies and IoT device owners can create driver profiles and rate drivers' "risk" levels. When it comes to fleet telematics, the database will store information in a shared database that your fleet control system may access. This directory could be a local server or a cloud-based server, depending on the telematics solution. The particular process varies depending on the telematics remedy utilized, but after the information has been uploaded, the service technician can access it through the telematics system's apps. Here we describe the development of this process.
A GPS receiver, also known as GRPS, transmits a vehicle's location to a vehicle telematics device. A wireless network is used to send data from the vehicle to a server.

A wireless network is used to send data from the vehicle to a server. The data flow from the truck and telematics provider is managed by a telecoms operator.

A dispatcher can obtain the data from the telematics provider on a computer or mobile device through the internet.

Benefits of a telematics system in the transportation industry
Worldwide logistics firms are battling for dominance as the global epidemic continues to spread, reshaping the supply chain in the process. Modern tools and strategies are essential if you want to succeed in a market with many strong competitors. The correct application of telematics systems will tip the balance in your favor. You can automate chores and take more control of your fleet by using vehicle tracking. Costs are decreased while productivity, security, and safety are increased. The advantages of telematics for transportation firms are as follows.
Boost performance. You can gather crucial information and put it together into an easy-to-understand report by using telematics systems to generate reports and subsequently. Additionally, it would be considerably simpler to manage fleet-wide overviews to track performance, potential violations, HOS, and other factors.
Restraint bad driving practices. Bad driving habits including speeding, jerky acceleration, and prolonged idling all increase fuel consumption. Additionally, it speeds up the amount of wear and tear on your truck and raises the possibility of an accident. Additional maintenance expenditures brought on by aggressive driving should be kept to a minimum since fleet maintenance costs are expected to increase. With the use of telematics systems, you can instantly and automatically collect engine data and turn it into reports that can be used for driver feedback and training.
Enhance safety and compliance. In the freight logistics sector, it is crucial to keep track of Hours of Service (HOS). By having digital copies of your HOS data, Electronic Logging Devices (ELDs), which are currently required, allow you to automate driver timesheets and streamline sidereal inspections. Additionally, protecting your team's health and safety goes hand in hand with making sure HOS compliance. Long-distance drivers are vulnerable to the particular emotional and physical pressures that long drives bring, including weariness.
Reduce fuel costs. For logistics business, fuel is a significant expense - especially for those that focus on long-haul transportation. It accounts for a staggering 30% of your fleet's operating expenses. This is why, depending on how many vehicles you operate, reducing fuel-wasting behaviours and practices can result in significant financial savings for you.
Better customer service. One late delivery will cause clients to stop using your service. To address stressful conditions brought on by specific events during a long-haul trip, effective communication is essential. GPS telematics would be used by dispatchers to track the whereabouts of each and every vehicle in their fleet. Customers can be informed with this information. Real-time tracking is the method that is most frequently used. Managers may redirect drivers and make quick decisions thanks to the real-time updates it gives them. It also informs clients of the specific location of their shipments.
Key advantages of IMPARGO's fleet telematics system
Your trucks are not earning money if they are not on the road. On the other hand, the longer your trucks are on the road, the greater the risks for both the vehicle and the driver. These hazards are significant for transportation businesses since long trips make compliance, cargo safety, and driver health much more of a concern. As a dispatcher or fleet manager, you must make sure that your staff delivers effective, timely service while being secure and effective. Therefore, the IMPARGO telematics system would help you ease that burden.
Do you need a telematics system for trucks?
Good news! We got the best one for you! Sign up for your free 14-days trial and make the most out of the CargoApps features. With our software, you can optimize your logistics operations such as saving up to 20% time in truck route planning, automate your transport order processing, truck telematics system and get ETA and above all - increase your profitability. Digitize your logistics operations overnight and start optimizing your routes now.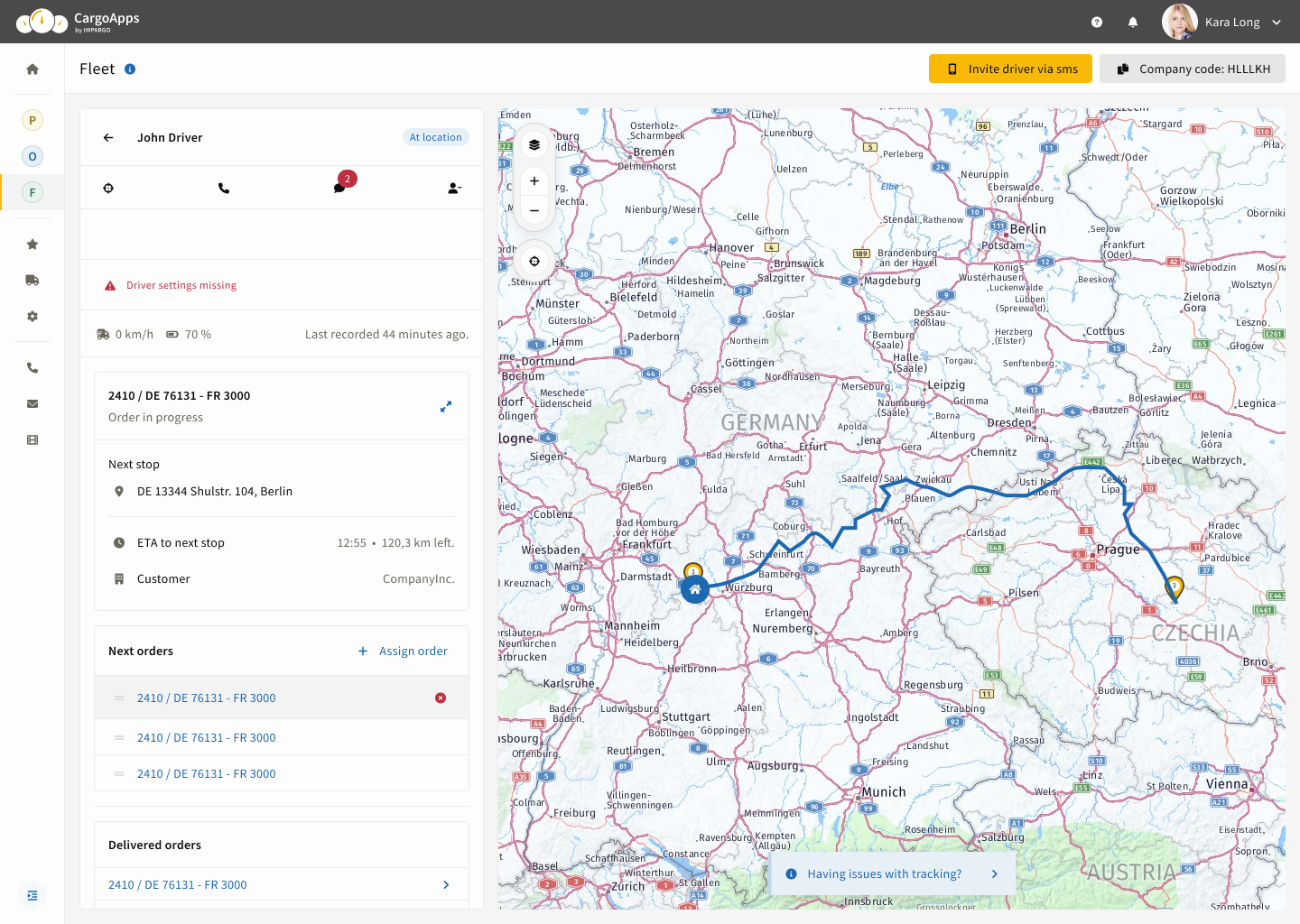 If you want to know more about how to use a telematics system to optimize your long-haul business, request our demo now!