There is a lot of misinformation in the industry about what a control tower actually does and offers companies with supply chains. Leaders in supply chain technology would be advised to consider its underlying capabilities rather than just looking at it from a technological perspective. Therefore, IMPARGO provides a closer look to the definition and applications of supply chain control towers in freight logistics.
What is a Supply Chain Control Tower?
A supply chain control tower (SCCT) is a cloud-based solution that uses cutting-edge technologies to manage supply chains in a proactive manner.
A supply chain control tower is a centralized 'information hub' that captures real-time data from both internal and external supply chain systems to provide end-to-end visibility. Depending on the requirements it can gather information from supply chain partners, including suppliers, customers, logistics service providers, and 3PL and 4PL providers, as well as from ERP and warehouse management systems. Supply chain data management can provide a comprehensive view of the supply chain's strengths and limitations.
Furthemore, the supply chain control tower should help to optimize fulfillment lead times, lower inventory costs, mitigate exceptions in real-time, and increase the percentage of orders delivered on time.
In summary, a supply chain control tower integrates and organizes real-time data from several operations, allowing businesses to recognize, assess, and manage their supply chains successfully.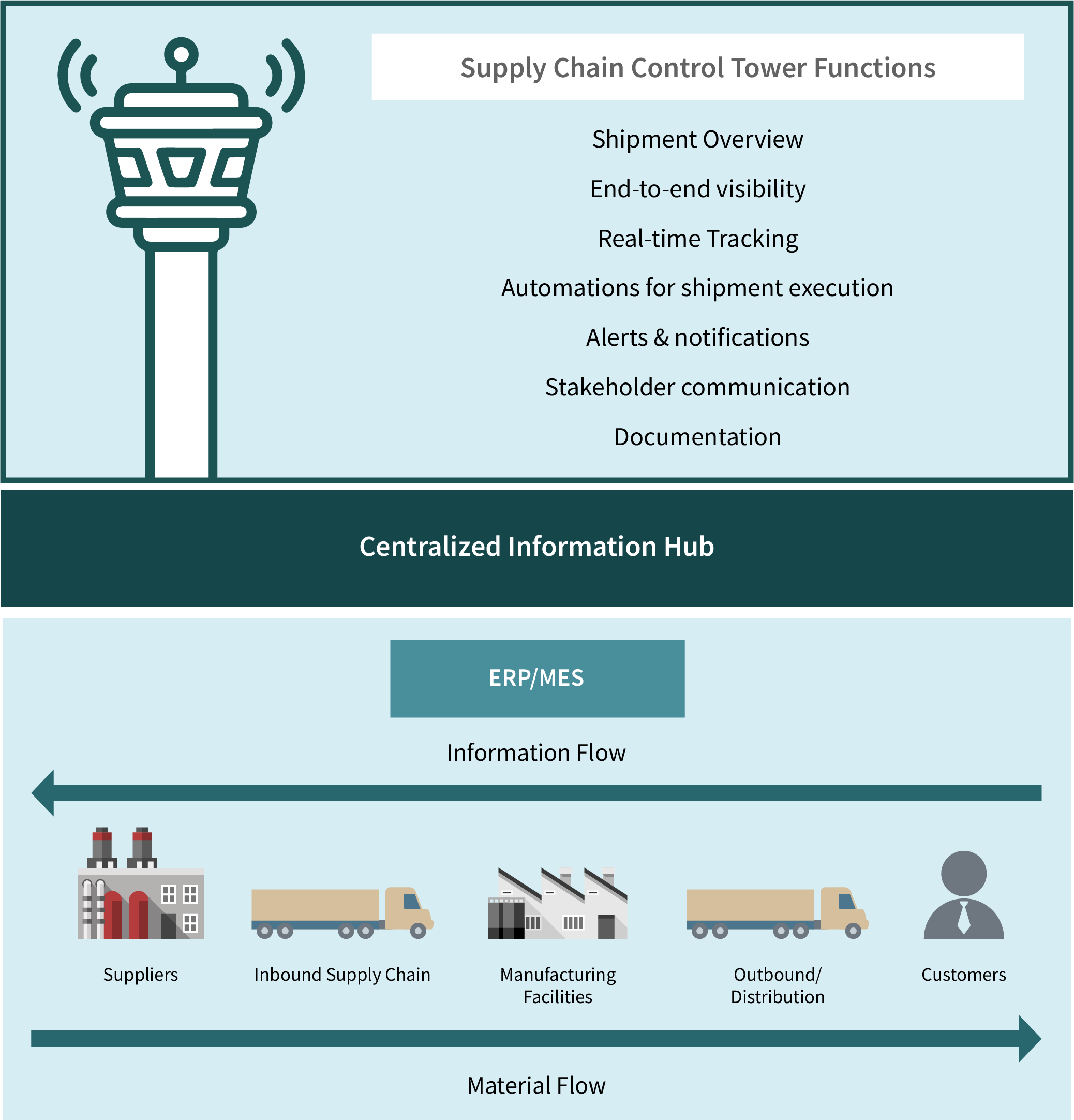 Core Benefits of Supply Chain Control Towers
End-to-end data collection
The control tower uses its cloud-based platform to gather data from every touchpoint, giving current knowledge and insights into potential interference with shipments. In order to respond to supply chain disruptions and prepare for the diversion of items or alternative sources to minimize delays in manufacturing or operations, this fosters communication among chain stakeholders.
Providing data-driven solutions
Control towers not only keep an eye on shipments, but also foresee problems and offer solutions in a prompt manner. Control towers forecast supply and demand for shipments and update inventory levels as data is gathered in real-time. Predictive data is used by the platform to improve forecasting and decision-making and prevent supply chain interruptions.
Saving time and money
Because control towers can help you foresee unexpected events, operators can reduce supply chain risk, minimize unforeseen expenses, and more precisely anticipate supply and demand in terms of location, consumption, and delivery times. With data analysis, logistics managers are able to analyze patterns, ensure that shipments arrive on time every time, or make real-time adjustments to KPIs or check supplier performance.
Types of Operational Control Towers
Operational Control Towers will notify you of issues or exceptions as they happen and also give you the opportunity to address the problem immediately — ideally inside the application. The extent to which solutions' visibility and control cover the whole supply chain, though, will vary. Customers should be aware of the large functional gaps between the Control Towers available on the market as a result. These could be mainly identified in two types:
Transportation-Oriented
These Control Towers primarily provide information on incoming and outgoing shipments, as well as visibility into ASN, deliveries, track and trace, freight expenditure, on-time delivery, and other comparable statistics. They frequently come with a Transportation Management System (TMS) or are acquired as an add-on because of their concentrated focus on transportation. In addition to being segregated from other supply chain activities due to their narrow emphasis, they only offer granular visibility into transportation and lack end-to-end visibility and orchestration capabilities outside of shipping.
Supply Chain-Oriented
The multi-enterprise supply chain is the focus of these control towers, which provide visibility and control over internal and external end-to-end operations and milestones. This can also involve inventories from both internal and external suppliers, manufacturing, maintenance, and repair in addition to transportation. They give more thorough, real-time cooperation with suppliers and partners because they provide full end-to-end supply chain visibility and in-app control across your whole supply chain network.
The comparison between supply chain and transportation-focused Control Towers' analytical and operational capabilities is illustrated in the table below.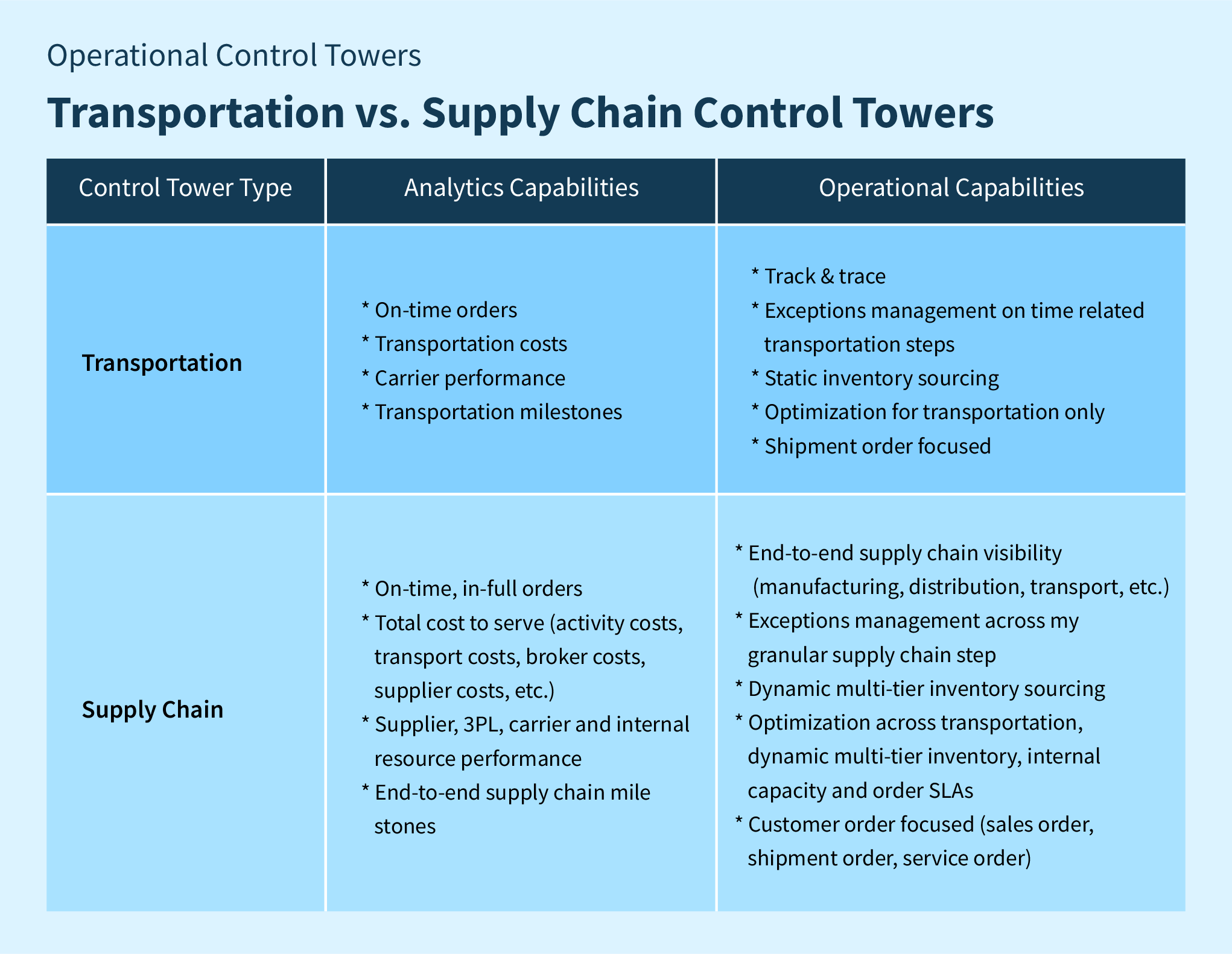 How does a supply chain control tower work?
The core of a control tower is data. In order to deliver a usable, accessible 360-degree perspective of what is happening anywhere in your supply chain in real time, these systems gather copious volumes of up to the minute data from all points of the supply chain. Your results will be better if your supply chain control tower employs better and more complete data. In addition, a supply chain control tower functions as follows:
Provides real-time information and insights by automatically gathering and integrating data from all points of the supply chain.

Provides current information via user-friendly dashboards increase responsiveness to tactical and operational interruptions and forecast future events.

Supports automatic decision-making and self-correction.
How control tower helps improving supply chain visibility
Recent logistics movements have made it clear that supply systems around the world need to be more resilient. Massive disruptions in logistics and supply chain during and after the pandemic are influencing the day-to-day issues encountered by supply chain and fulfillment management as firms begin to emerge and reopen. The demand for better systems acting as control towers is increasing to encourage more digitization and automation in the industry. Control towers improve end-to-end visibility in highly complex supply chains by providing centralized data solutions and fast, factual information.
The IMPARGO's Shipper Portal can be used as a control tower for road freight shippers, since it offers an all-in-one TMS solution for road freight operations. The software has all functionalities to manage your transportation, as well as enables customers to integrate their ERP/TMS systems, communicate with carriers effectively, monitor your transports and analyze your supply chain performance. This will help you save around 50% of manual work, 10% transportation costs and it enables you to decrease 30% in exceptions.
Get in touch with us now in order to receive free personal consulting on your company's requirements and technical implementation.