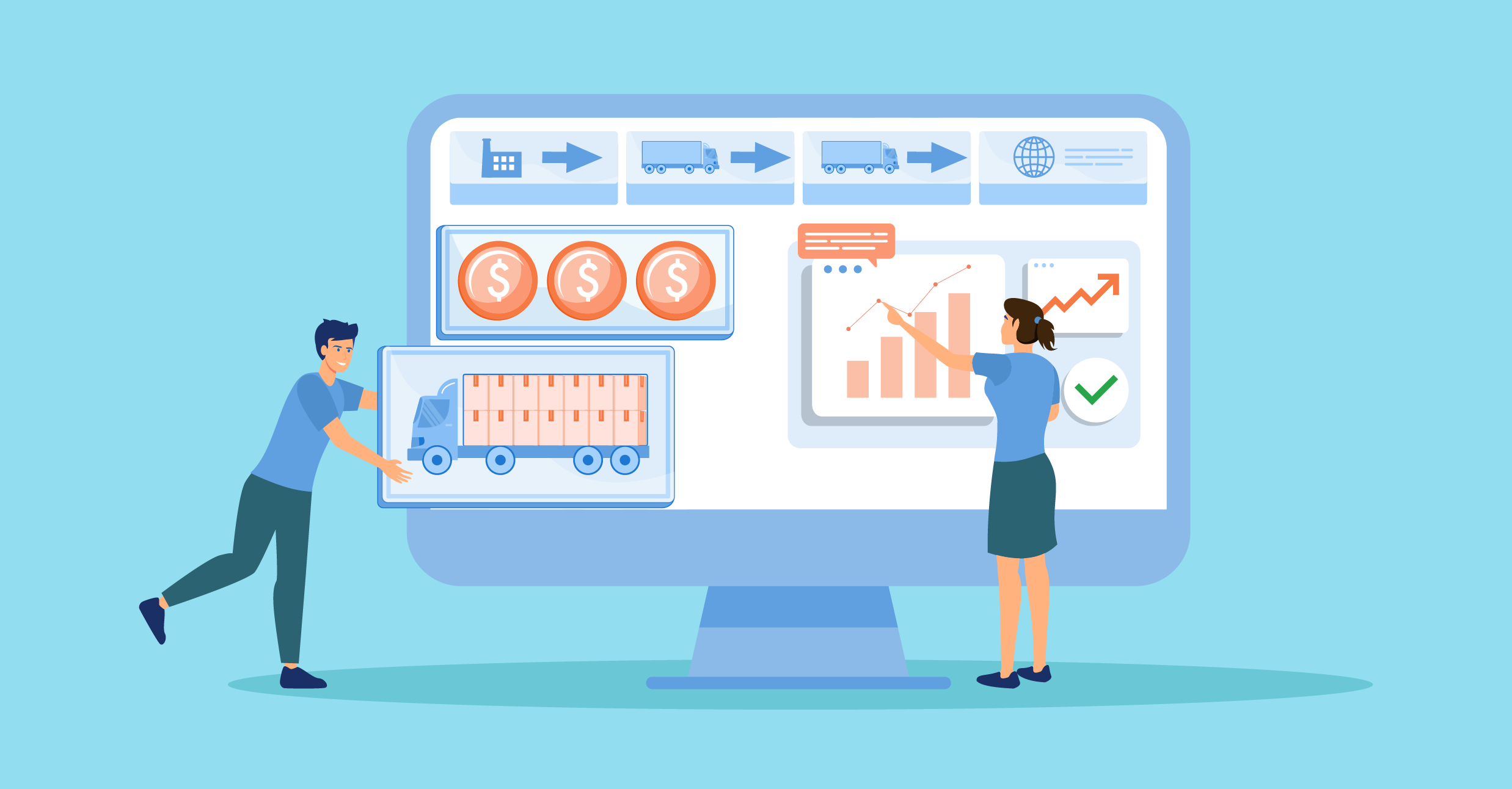 Table of Contents:
Many companies today consider transportation to be a key bottleneck in the supply chain. Most of them struggle to reduce costs and, at the same time, meet growing customer demands. This requires state-of-the-art transportation management technology including an Order Management System (OMS).
Decades ago, order management used to rely on laborious procedures, such as manually updating static spreadsheets. As these procedures seem to be outdated and cannot serve today's transportation companies in the same way as before, efficient and integrated order management systems are needed. In this article, you will get an overview of different relevant points that explain why an order management system is crucial for transportation and logistics companies.
What is an Order Management System (OMS)?
An order management system (OMS) is used to automate and organize order and fulfillment processes. In road freight logistics, the system provides a complete database of shippers, customers, billing and payment details, and order processing records.
A poorly designed order management system can make the difference between a satisfied consumer and a dissatisfied one who will want to shop elsewhere. On the other hand, an effective order management system can increase sales visibility, speed order processing and improve customer relationship management. For flawless operation, the industry standard is now a cloud-based transportation management software that accommodates the flexible needs of shippers.
Receiving, tracking and completing customer orders can be time-consuming and are often error-prone, costing transport companies not only time, but also money. By automating numerous administrative procedures that are often necessary, the use of an order management system can help streamline processes.
Order Management Software for transport companies and shippers
By using technology and automation, an Order Management Software will serve as a centralized platform for managing data and the entire fulfillment process. Order fulfillment management may also be offered by software companies like IMPARGO, which can help to coordinate several processes and lower the likelihood of misunderstandings. This is already a significant advancement over manual order handling. The most common option for organizations is typically an OMS, especially if you can locate a system that is simple to link with other solutions like marketplaces, couriers, and accounting systems.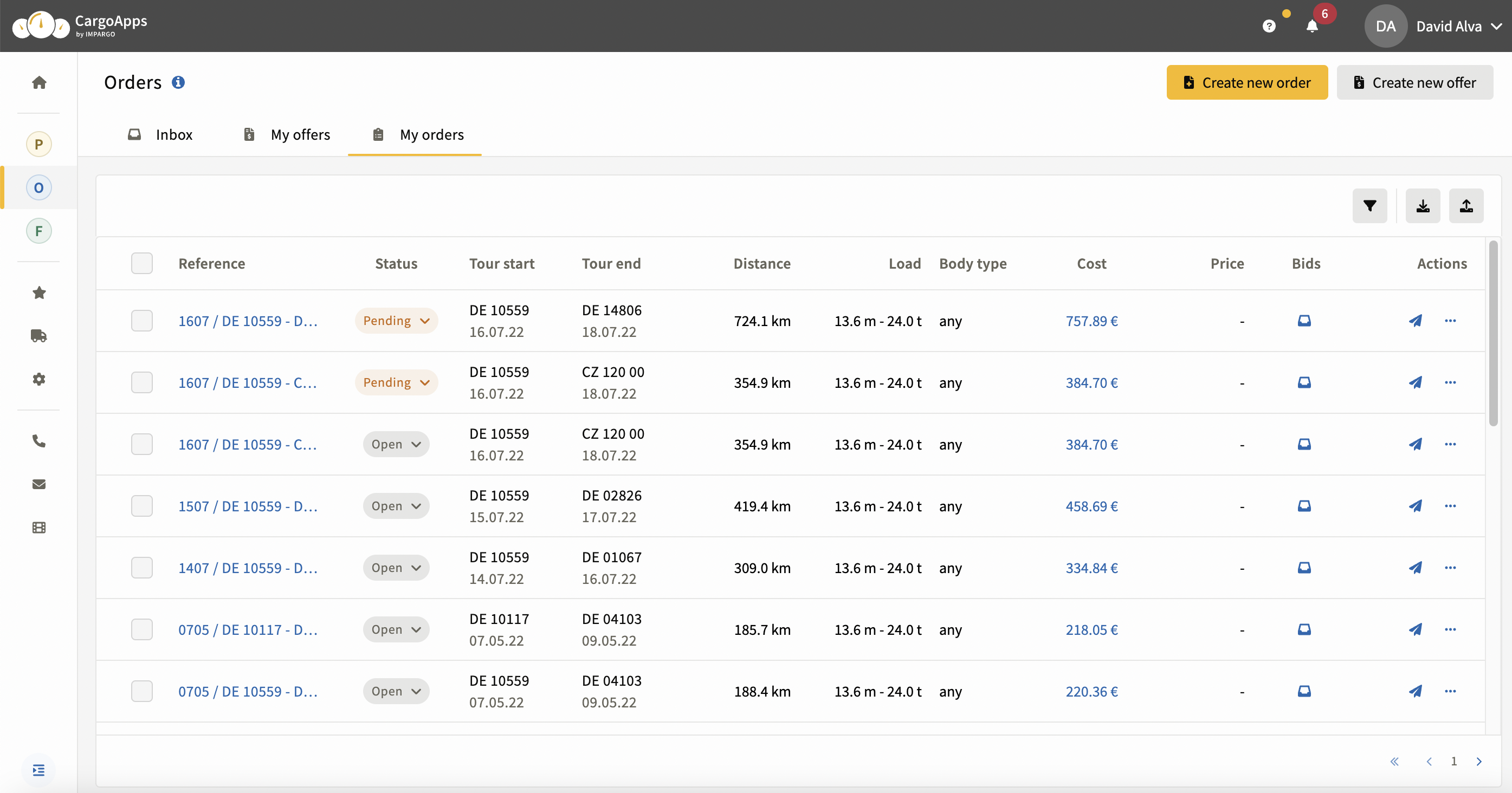 How does an effective order management process work?
An order management system (OMS) works by centralizing all of the orders from a company's sales channels. Therefore, a company could access, manage, and complete all of their sales orders from a single login interface. This greatly simplifies the process of managing orders. Everything may be managed from beginning to end in one location rather than logging into each different sales channel or POS system.
Additionally, an order management system offers fulfillment through effective order collection, validation, and other processes such as drop-shipping, shipment confirmations, and customer communication. Following the order, a fully functional OMS makes it simple to make payments and shares that information with banking systems.
An effective order management system - such as IMPARGO's CargoApps for carriers and IMPARGO's ShipperPortal for shippers, can help carriers, freight forwarders and shippers to quickly create and manage transport orders in a few clicks. For example, through the order overview, users can easily view shipment details, manage documents, and track and share order status. In addition, they are able to perform truck driver assignment, subcontractor assignment, status configuration and request for quotations. All this automated management helps companies increase their productivity and never lose sight of any transport order.
Key benefits of an order management system for carriers, freight forwarders and shippers
To help operators manage and track orders that come from various fulfillment points and arrive through distribution channels, order management software has been implemented. They let service providers automate more quickly and gather all of their data in a single, streamlined interface.
Here are some of the benefits you can achieve by using order management software.
1. Stable Growth
Order management systems are made to interact and integrate with each other to achieve an optimal seamless performance. They are also made to be scalable, and there are many ways that standalone modules can be merged into the current system to bring new features and functionalities.
2. Faster and more accurate processing of orders
Order management systems allow users to easily track the progress of outstanding orders and search order history if information about a previous or completed order is needed. And as the system is cloud-based and removes the need for hosting capabilities, you can receive this information from anywhere, at any time.
3. No more need for paperwork
Document digitization has various advantages, including time and space savings and simpler information sharing. Security will also be increased by switching from a paper-based order management system to one that is cloud-based. Physical papers can be easily destroyed without being noticed by staff, are prone to loss, and are hard to track.
Through an order management system, it is easier to specify transport requests and manage them, right up to invoicing. Planners, drivers and customers all have access to the same information in the TMS, so data only needs to be entered once. Paper-based shipping lists are a thing of the past so this gives you and your customers a constant overview of the status of transport requests and avoids unnecessary administrative transactions.
4. Customized reporting and documents
Providing your company's confidence with consistent reporting tools that include a custom reporting option to allow the creation of unique reports in line with business requirements is definitely a great idea. Custom reports can be scheduled to be sent to specific users, eliminating the time-consuming process of sending data and allowing you to spend more time on other aspects of your business.
5. Direct billing for customers
By automating the necessary administrative procedures, using a cloud-based order management system will significantly reduce errors and help make informed, data-driven decisions to provide a more responsive and consistent service. In addition, an order management system interfaces with many accounting systems, allowing you to easily import and export invoices and reduce the possibility of double data entry. This reduces the possibility of repeat data entry, while allowing logistics and fulfillment partners to operate more efficiently.
How to choose the right Order Management Software for your transport executions
Making the best order management software choice for your company can be challenging. Here are a few steps to follow in order to choose the OMS your company needs:
Making sure they match your current business goals
Consideration should be given to forecasts of corporate growth and expanding sales channels when determining your company's future needs.
Planning how to integrate your systems and data
Connectivity with other systems, such as your company's ERP system and e-commerce website, should also be considered. You can reduce manual entries and reduce errors by integrating business tools into a single ERP platform in order to avoid future problems and save time.
Selecting on-premises or cloud-based
You don't need to install or maintain any software or hardware in order to use cloud/SaaS order management system solutions. For businesses who choose to host and operate their own systems, on-premises OMS applications are available.
Why IMPARGO's CargoApps is the right tool for managing transport orders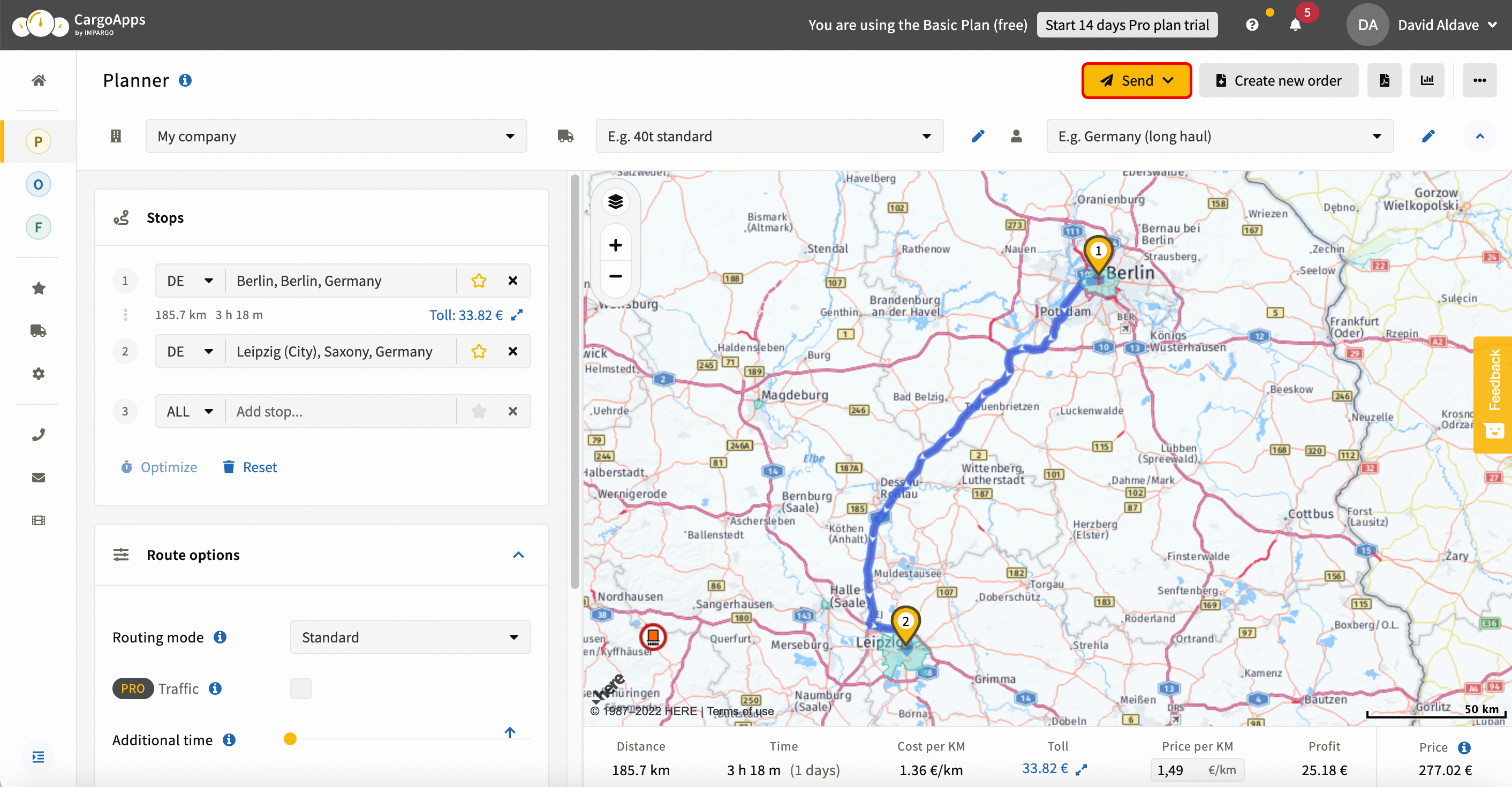 Would you like to process your transport orders automatically, optimizing sub-processes while taking the entire process into consideration?
Then, we have the right tool for you!
Online OMS solutions have not only become indispensable but have become a new standard requirement if your transport company aims to reach a higher level of performance and development. Real-time data is an integral part of an effective, distributed order management system and making good use of it can be a competitive advantage. Therefore, IMPARGO offers you an integrated solution to manage your orders in the most optimal way possible.
With the user-friendly IMPARGO Transportation Order Management System for carriers and freight forwarders or with the user-friendly IMPARGO Transportation Order Management System for shippers, you will be able to manage your orders, analyze your shipments and communicate with your partners in the easiest way possible. Here you got an overview of how our order management software can help with your transport executions:
Manage your transport order in a clear table and use the expanding functions of CargoApps.

Create analysis in our system with a few clicks

Digitize communication with partners

Make the best of these functionalities: Order assignment, setting or sharing a status, complaints about costs and requests for quotations.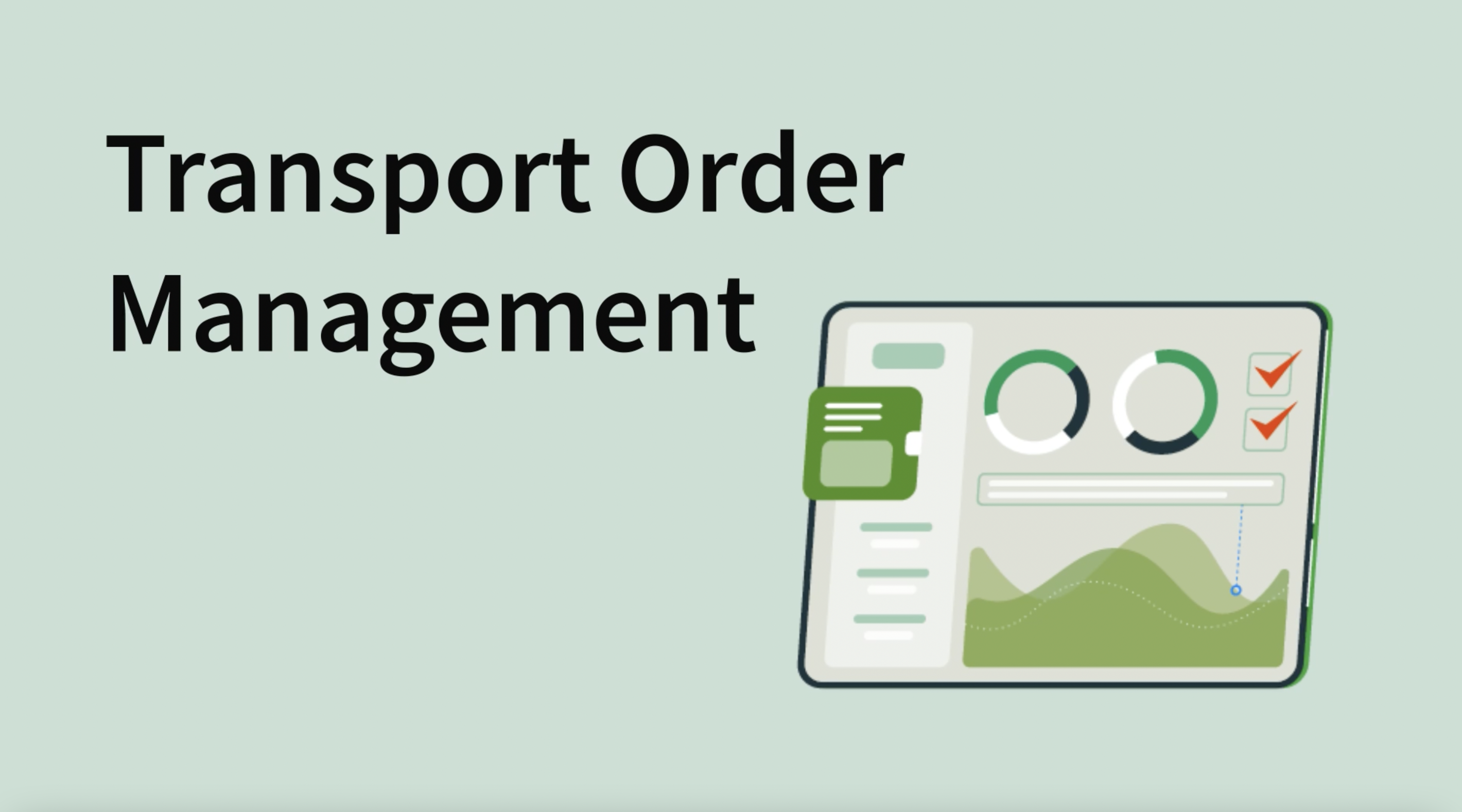 See more about the IMPARGO's Transport Order Management System
Increase your productivity by using the Order Management System of IMPARGO for carriers and shippers.
Any questions? If so, please get in touch with our expert.