Table of contents:
1. Main differences between telematics and fleet management
2. How telematics and fleet management work together
3. Key benefits of using telematics in trucking fleet management operations
4. Which system to choose for your business?
The terms telematics and fleet management are often used in road freight logistics. Although both notions appear to have some similarities, they are not exactly the same. Telematics and fleet management are two separate concepts. Therefore, it is crucial to distinguish between the two. In this article, we will examine the differences and similarities between the two concepts to define whether they can work together.
Main differences between telematics and fleet management
Telematics refers to individual data points obtained from in-vehicle sensors, and fleet management systems help in integrating and managing these vehicle data points across every fleet of your fleet's telematics devices. Generally speaking, telematics is concerned with the data related to your vehicles, while fleet management is concerned with your complete fleet and its life cycle (collection, transmission, and storage).
Although it should be clear that telematics cannot maintain the productivity, organization, and efficiency of your fleet on its own, telematics could be one of the most crucial components in a fleet management system to increase the return of investment (ROI), performance, and safety of your fleet. Here we have some key differences between telematics and fleet management:
| | |
| --- | --- |
| Telematics system | Fleet Management Software |
| It concerns the vehicle's data (collection, transmission, and storage). | It concerns the complete fleet and its life cycle. |
| It is ideal for just gathering data points. | It is good for reporting and analyzing data. |
| It involves real-time moving data points on a map. | It consists of rows and columns in a database. |
How telematics and fleet management work together
To increase the visibility and productivity of their fleets, businesses are increasingly using both telematics systems and fleet management software. Even if telematics data is typically maintained in the cloud, it still needs to be visualized, used, and converted into useful insights on a website or app. Fleet management software, hence, could be useful in this situation. Using fleet management software, you may convert the data collected from the telematics system into useful reports, thereby setting up alarms, sending emails, and reporting business analytics about every aspect of your fleet. Additionally, you can integrate the system with third-party solutions to enhance the fleet performance, and much more.
There are, of course, more aspects in which telematics and fleet management can support each other:
A fleet management company can benefit from a telematics system's ability to capture and transmit vehicle location data because it can help it more accurately track and report driver times for billing and performance tracking purposes.
Fleet management can help the users gain insight into whether drivers are misusing company vehicles. By using telematics systems' capacity to give real-time and historical data regarding driver behaviour, such as average speed, braking, acceleration, fuel consumption, and so forth, fleet managers can use this data to motivate drivers to exercise greater responsibility and thus, make sure their fleet operates safely and efficiently.
A fleet manager may get notifications and keep track of each vehicle's required repair schedules with the use of both systems, which will save more cost and improve the company's long-term return on investment (ROI) on its trucks.
Key benefits of using telematics system in fleet management operations
The use of telematics in fleet management operations has a number of key advantages. These consist of:
Decrease fuel costs: Fleet managers can quickly address wasteful practices of the vehicles, such as idling or gasoline slippage using telematics. In order to cut down on wasteful mileage (which is very important in road freight logistics), the system can also provide data to assist managers in planning the most effective route for each driver.
Improve safety: Fleet managers can use the data to communicate with drivers to avoid bad driving practices like speeding, gas wasting or abrupt braking. Actionable, data-driven reports that highlight driver performance and support safe driving behaviour can be used in this case to make improvements.
Improve efficiency and productivity: Drivers can also use data from telematic systems to get more information about their vehicles and avoid driving accidents. Telematics systems provide coordinated performance, which boosts fleet productivity. Real-time communication with drivers enables fleet management to give drivers tranquillity and foster connections. Additionally, GPS telematics solutions offer maps and optimal routes to make trips as effective as possible, assisting drivers in avoiding traffic jams and taking longer routes.
Manage drivers better: Fleet managers have an exact, automatic record of how long an employee worked by using a telematics system to monitor the precise time a vehicle begins until the moment it shuts down. Avoiding the needless time spent manually matching up timesheets to job tickets, this aids business owners in ensuring that the drivers are driving for the hours they put in.
Which system to choose for your business?
Now that you know there are two possibilities, telematics systems and fleet management software. However, when both components are present, fleet managers should combine the best of both worlds by having a fleet management system with telematics integrated with it.
With IMPARGO's fleet management system, you will be able to increase your fleet productivity by providing integrated solutions and making automatic and seamless use of intelligent data through our CargoApps. You can start by signing up for your free 14-day trial and making the most out of the CargoApps features. With our software, you can optimize your logistics operations such as saving up to 20% time in truck route planning, automate your transport order processing, truck telematics system and get ETA and above all - increase your profitability. Digitize your logistics operations overnight and start optimizing your routes now.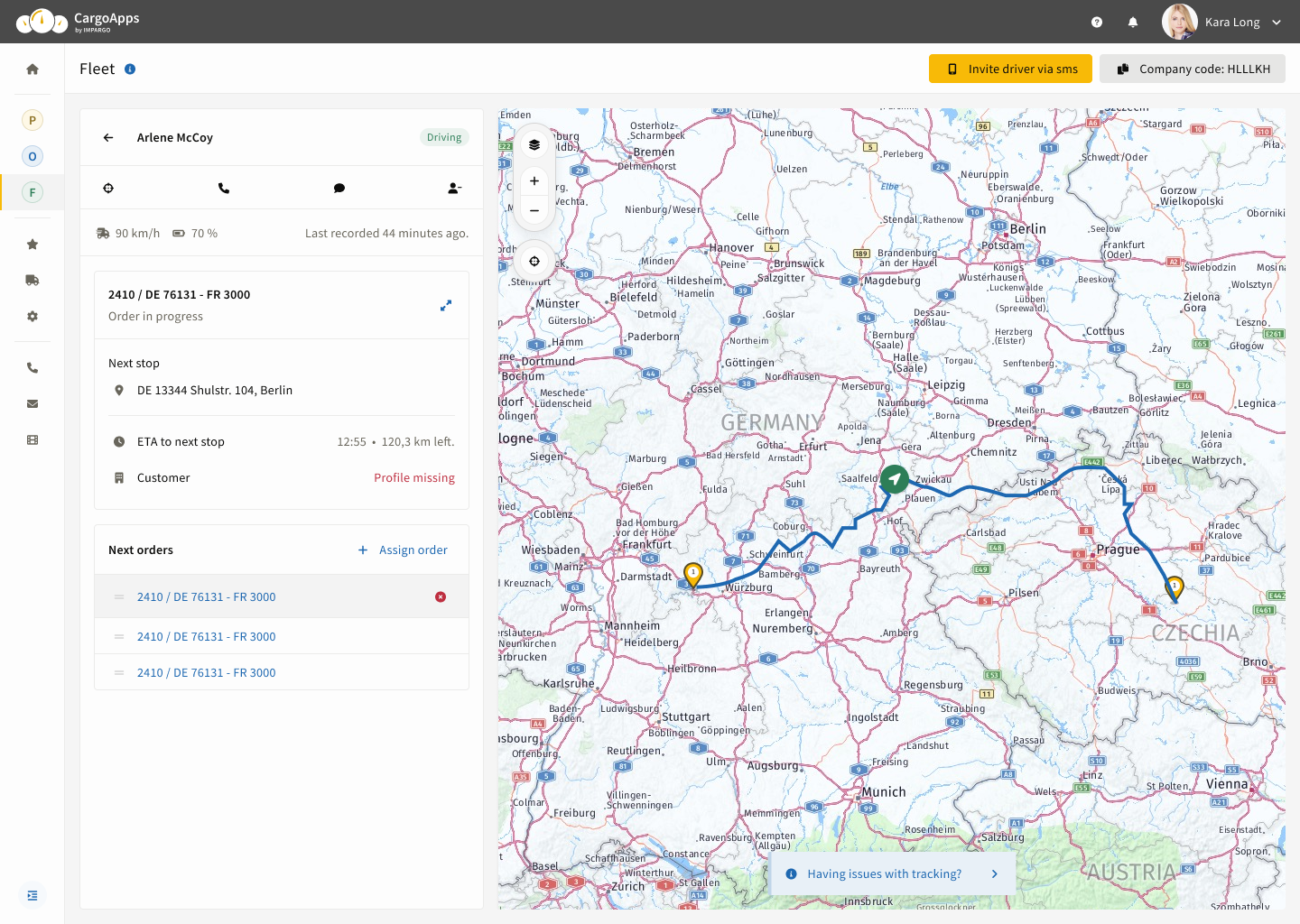 If you would like to learn more about how IMPARGO's telematics system can help you manage your fleets in the most optimal way, then contact our expert now., request our demo now!